Inspired by The Russians
For this month's wallpaper I was inspired by two of my favorite illustrators: Yelena Bryksenkova and Alexandra Dvornikova.
Yelena was born in Saint Petersburg, Russia and now lives in Los Angeles and Alexandra lives in Saint Petersburg. What I love about their drawings is the magical, mysterious and melancholic themes in a beautiful balanced use of colour. Their images ask to have another look, to look further, longer. Both Yelena and Alexandra have an eye for detail which adds an extra layer to their illustrations. I've tried to put something of that feel in my November wallpaper. Hope you like it.
You can download the wallpaper right here, for free. Put it on your phone and enjoy. Happy new month of November!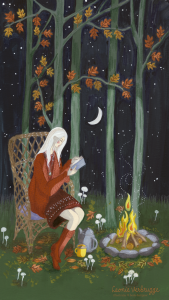 Please have a look at Yelena's and Alexandra's amazing work on:
yelenabryksenkova.com and society6.com/alexandradvornikova
BewarenBewaren
BewarenBewaren
BewarenBewaren
BewarenBewaren
BewarenBewaren