Let's go outside!
What a full summer it was, I can barely remember the beginning of it, way back in June. With September on a roll, we're spinning on the rhythm of school or work and autumn shows us it's on its way.
The changes of temperature and air, the wind, the rain, the colored leaves that are falling down. A low autumn sun asks me to go outside for a long walk. I've tried to capture that feeling in an illustration I made for you. A wallpaper for your phone which you can download for free.
Click the image below to download it from there.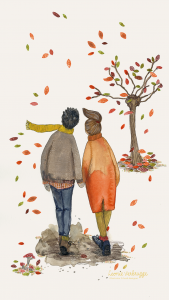 BewarenBewaren
BewarenBewaren
BewarenBewaren
BewarenBewaren
BewarenBewaren