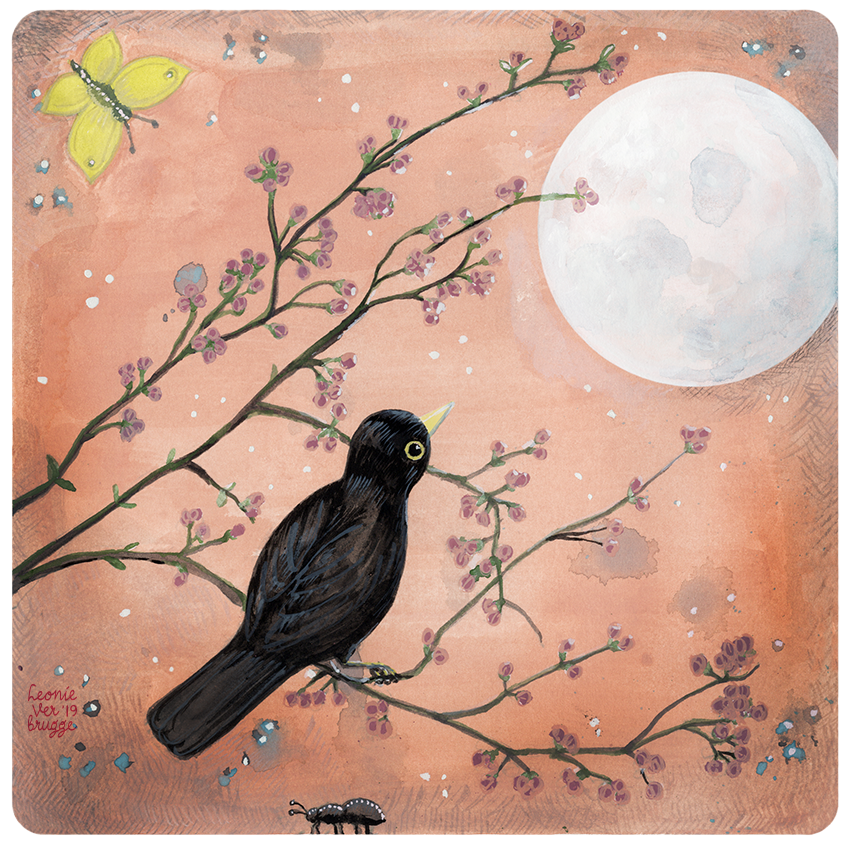 Circles
I am soft. I am pink.
At first I was just a little seed.
My roots feeded me and the sun gave me her loving warmth.
Slowly I grew a little bigger and a little stronger, day by day.
Then one day my shell became too tight.
It felt as if I could hardly breathe any longer.
Just as I felt I could no longer hold on, my shell broke free.
Suddenly, there was this soft pink light surrounding me.
That light, it came from the inside of me.
Carefully I began to unwrap the layers of my self, one by one.
First the tough ones on top,
then the softer ones in the middle,
and finally I gently unfolded the most vulnerable ones on the inside,
covering my heart.
With every layer I became more aware of who I really am.
And what it is that I am here for.
It is, so I can shine my light.
Sing my own precious song.
The light of my heart, shines for you.
So it can warm and sooth you, just like the sun once did for me.
This is the circle of life.
It is only when we let go of what's holding us back,
that we get to reach our true destination.
To be exactly who and what we are meant to be.
I am soft, I am pink, I am light and I am love.
A few years ago Rosalie wrote this poem. At the time she was recovering from a severe burn out. A period in which she found herself exploring the way inwards and discovering this layer by layer.
In this period I met her on the schoolyard while waiting for our daughters. We clicked right away and during our conversations we discovered more resemblances and mutual interests. So it seemed that for a few years we moved in the same circles without being aware of it. Our paths had crossed already before our meeting on the schoolyard. A friendship was born, although it felt more like retrieving, remembering and restoring a 'forgotten' or 'lost' friendship.
A year around
At the beginning of this year we both felt inspired to do something together on a professional level and started to work together on an exciting year project. Keywords: seasons, phases of the moon, circles, self care, self love, spirituality, growth and transformation. For Rosalie this was given by her love, passion and craftsmanship for coaching and writing and for me through my love, passion and craftsmanship for imagery and illustration. A circle around.
An invitation
Rosalie and I invite you to go on a quest together with us this coming year. To explore the circle. From outwards inwards and from the inside to the outside. Thirteen moons around. Are you coming along with us?
Every full moon we will post a new blog in which we will explore a theme of the wheel of the year. We will work intuitively and have us lead through our own inspiration. In this way every month will be a surprise what it will show us and how it will unfold. Rosalie will write the words and create these into a reflection or a thought and sometimes combined with an appropriate exercise or tool. And I will create a unique illustration for every new post to look at, to feel the story and be touched by it.
We are really looking forward to sow this seed, to cherish it and let it grow. And then to set it free sharing it with you!
Which seed
Today is March 21st 2019. This beautiful day is initiated by a full super moon that stood high in the sky last night. This is the day of Ostara, the spring equinox. The start of a new season. The beginning of a new spring. Ostara is the goddess of spring and a new morning. She announces the victory of light and gives birth to a new fruitful period. This is thé moment to sow. So that in a while you can harvest all the fruits of what you have sown. What is it that you want to achieve? Where do you want to stand a year from now? And what do you need to make that happen for you? In other words which seed will you sow today?
xoxo
Rosalie and Leonie
PS. Would you like to learn more about Rosalie and her coaching practice and writing? I invite you to go to her website: www.ziecoaching.nl (in Dutch). Or follow her on instagram (Dutch and English).