Illustrators who inspire me… Camilla Engman
The work of Camilla Engman, a Swedish illustrator and artist, really touches me. It comprises of a beautiful dichotomy, one that will take effort to understand. You'll have to keep looking at it, and look at it again to see it.

Her work contains both sweet, cute aspects as well as something dark and melancholic. This is mainly reflected in her paintings. Girls in skirts look cute at first glance, but when you look a little close, you'll see the strange grimaces on their faces. She creates characters with hats and cute outfits, that invite you, but then, out of the blue, you'll see a character with a mask, making you want to keep your distance. This alienating dichotomy intrigues me and teaches me to look for a certain tension in the work I want to create.
Her use of colors is subdued, with a lot of green, brown and yellow shades, sometimes with a touch of warm red.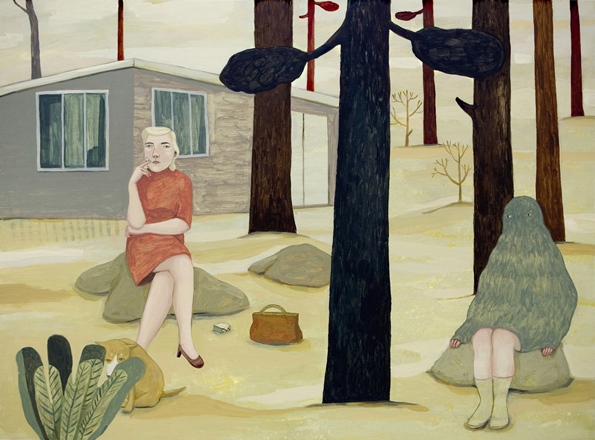 Her illustrations have a fresher and more graphic design than her paintings. The charming elements are reflected in these as well, together with a dash of humor. In her illustrations, you'll once again see a lot of green, brown and yellow, but much fresher than in her canvases. The human figures in her illustrations almost have some sort of snouts instead of noses. This gives her images an animal touch, with a gentle appearance.
The proportions of bodies are often (anatomically) incorrect, and show me that it doesn't have to be perfect. In fact, it is the imperfection that causes friction and positive tension.
Her images reflect a rural mindset. Swedish forests, but also the wideness and vastness. It results in dreamy, atmospheric images that never cease to capture you. They make you think about a deeper meaning of her imagery, but also about everyday life. The things you surround you with every day, but that you may not even notice. It is those places, objects, expressions and characters that Camilla uses in her illustrations and paintings. Perhaps to remind you that these should not go unnoticed.
Who inspires you? Who are your heros and heroines and why? Please let me know and write a comment.