Ego says, 'Once everything falls into place, I'll feel peace.' Spirit says, 'Find your peace, and then everything will fall into place.' - Marianne Williamson -
Welcome, so nice to meet you here! Today, Monday June 17th, the moon is at her fullest at exactly 10.47 am. Ready to make our way into a new phase. The eve of the solstice on June 21st, also known as Midsummer, is almost here. It is the moment that everything reaches its climax. Now, the day is at its longest and the night is shortest. We are surrounded by abundant light and green. Nature shows us how we can softly transition from a period of growth into a period of maturation.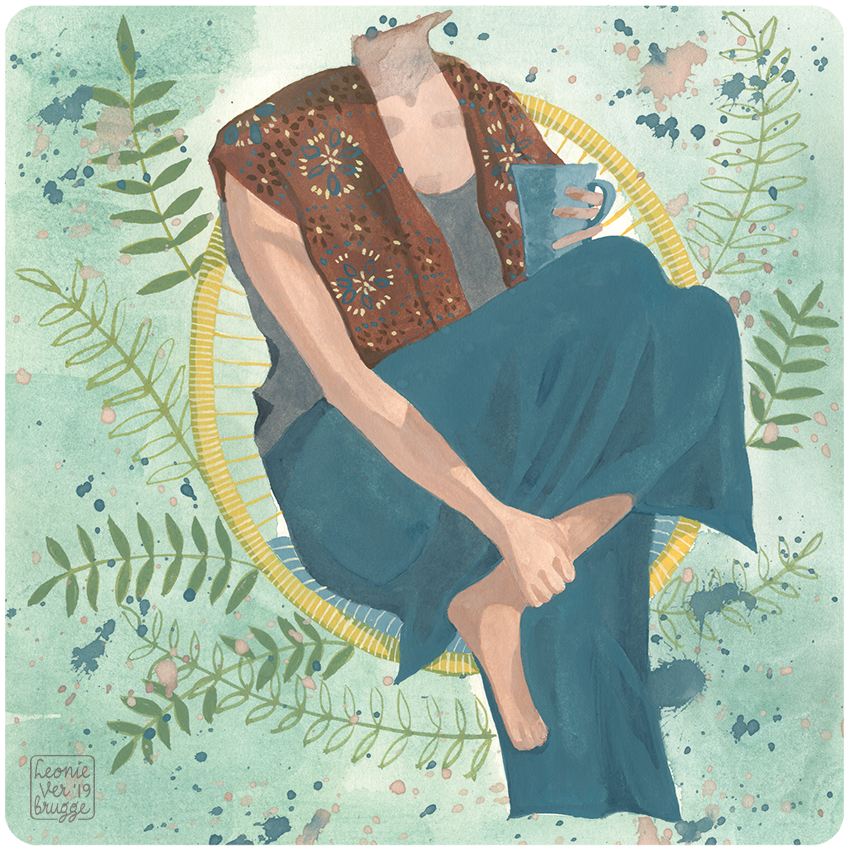 Touch and being touched
In relation to yourself as well as to others you carefully approach, stepping closer by, a step at a time. Being connected, means daring to touch ànd be touched. It is like a magical dance of pull and push. To and fro. Your heartbeat forming the rhythm and leading the way into depth and intimacy. This can be very exciting and even frightening for a lot of people. Coming close is vulnerable. It is about showing yourself as you are from the inside. Without protection. Pure and open.
Healing
How often do we all struggle with insecurities, lack of self-confidence and self-love. Building thick walls around us. Meant for protection, but instead they do us more harm than good. Ask yourself this question: what do you need protection for? Is it to prevent you from pain, grief or disappointment? But aren't these feelings just the right ones to grow from? Pain usually shows us where our wound is. It lets the light come in. Without pain we would not be able to grow. And without growth we would not heal. It is all part of the process of every transformation.
Maturation
Like every wound of a tree heals when a branche breaks we also heal from the inside when we are prepared to look at our pain. Let it be there. Without any judgement or expectations. Only the acknowledgement of it being there. Letting our hands rest upon it, letting our tears run free and comforting ourselves, we heal and with that we heal the world around us. Maturation is an inside job. It is about learning to see and to acknowledge the pain and the scars on our soul, so that we can acknowledge this in another person as well. Maturation softens us. Increases our empathetic abilities. It makes us more gentle and opens our hearts.
New Moon in Cancer
The coming New Moon on July 2nd is in the water sign Cancer and comes with a solar eclipse. Just like new moon stands for a new beginning and full moon for climaxes, so do eclipses serve deep transformations. They help us to get more light and sight onto our spiritual path. The influence of this upcoming full eclipse is  already very tangible for some of us. Old pains can be touched, by which hurt and sad feelings can surface and be expressed. This eclipse can be an important turning point for you. It opens new doors by closing others. This can feel quite abrupt and stir up a lot. So, try to embrace this occurrence as an invitation to be aware of yourself, be aware of what you are feeling and experiencing. It is an opportunity for you to heal and take a cosmic step forward with the supporting power of the new moon and the transformative power of the eclipse combined.
Rosalie has prepared a practice in silence for you. It is in Dutch and you can listen to it on her website.
Would you like to share your experience with us and others? We would love that. Leave a message for us or contact one of us in person. We wish you lots of softness and light.
xoxo
Rosalie and Leonie
Project Circles is a co-creation of Rosalie Heefer (text and practices) and Leonie Verbrugge (illustration)